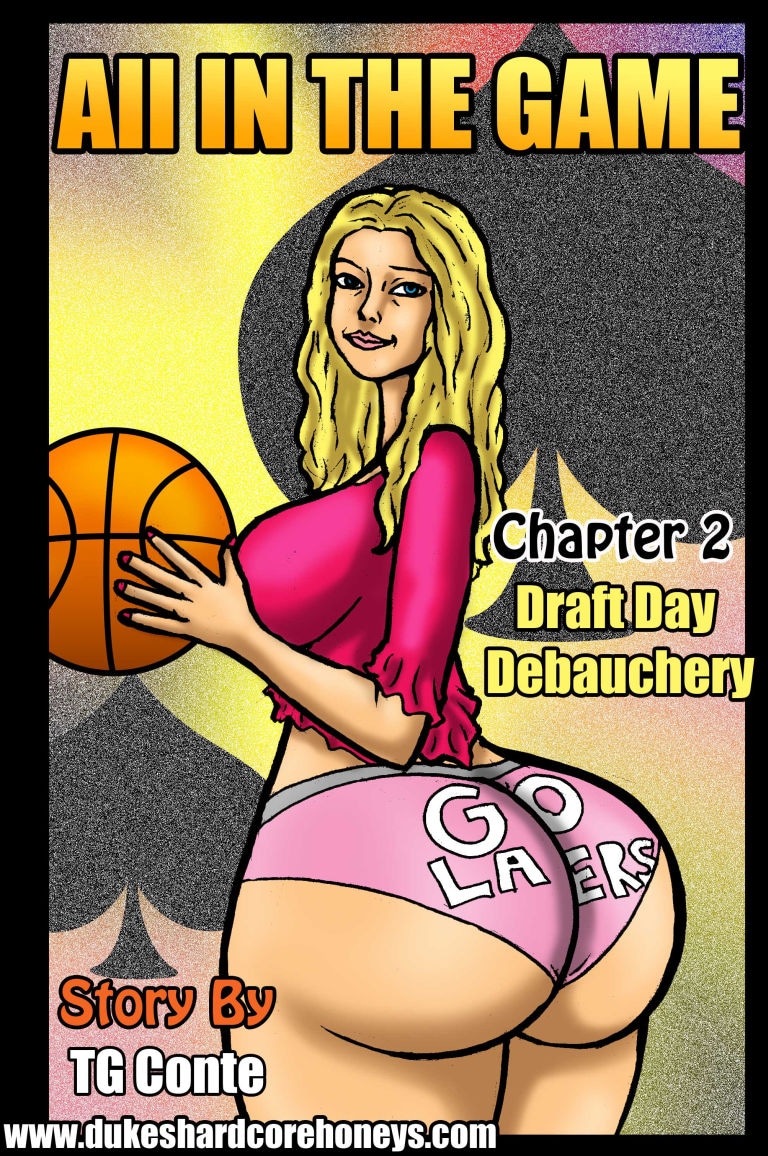 All in the Game Chapter 2
All In The Game: Chapter 2 Draft Day Debauchery
 
"Nah my nigga, these cheerleaders need to be thicka. They need to learn some better dance moves. Plus, fuck this techno shit. Y'all need to bump more of my records at the games." said a flashy 32 year old, African American, hip-hop mogul by the name of Papa Shake. "Look as part owner of this team, I'm trying to protect my investment. Plus, bring some style to this tired ass franchise. I mean, niggas is losin' left and right. We in Cali with all the fun, sun and celebrities, if we ain't winnin' at least we can be partyin'. Get the butts in the seats!"
 
The rest of the members of the board rolled their eyes and the general manager of the team spoke up and said, "Listen Mr. Samuels, that's all well and good, but what about winning? If we focus on a winning culture we can get the butts in the seats." Papa Shake walked over to the GM of the team and put his hand on the man's shoulder and said, "Dawg, I told you about that Mr. Samuels shit. Call me "Papa Shake", "Papa" or "Shake". A'ight bruh." One of the other board members interjected and said, "I'm sorry Mr. Sameu…I mean Papa Shake, but you're a minority owner in this franchise, you sure talk a lot for a person that owns the smallest percentage of this team." Papa Shake rolled his eyes and looked over to the head honcho. The majority owner of the team. Mr. Howard Beckman II. Mr. Beckman grinned and said, "Ha ha, calm down Oliver. Papa Shake is an owner just like the rest of us. Percentage means nothing. When I bought a controlling stake in this team a few years ago I let you guys run it however you saw fit. Now that I have good people running the industrial parts of my business, I've decided to get more involved with this team because you guys are stagnant. Don't forget, I reached out to Papa Shake to come in with us because he's what's happenin' with the kids. He's what's groovy to the youth. He has a pulse of what's goin' on in the streets! You guys understand? Papa, you have the floor."
 
Papa Shake gave the 65 year old multi-billionaire a high five and said, "H.B. My nigga. That's why I love you man. Anyway, we get the thicka bitches dancin', with the tighter outfits, get some of my artists to do half time shows and we release a series of commercials showing that we're young and hip. The first thing we need is a face of the franchise because that church boy Ty Dixon ain't it. Don't get me wrong, the nigga can ball, but he ain't got no swag. I assume with the first pick we gonna get that kid, Darius Milton. That young boy can ball, plus he got swag." The GM of the team interjected and said, "We're already ahead of you Papa. We're going to take him number one and we've made some trades to get another mid level first round pick that we hope to get his teammate at Vanderbrook with. We figure we can get Komani Rucker around 10th. It will cost us a first round pick next year, but we'll still have our second rounder this year and we can bring in another young player with potential. We'll get younger and hipper all in one shot." Papa Shake walked over to the GM and said, "My dawg, now we're working together. Wooooo, I'm thirsty. Champagne break anyone?" The GM said, "Uhh, in a little while Papa. First I want to introduce you to our new coach and his lovely wife. Coach Jeff Kennedy and Mrs. Cindy Kennedy."
 
Papa Shake was popping a bottle of expensive champagne that his assistant just brought him as he gazed over at the new coach and his voluptuous wife. "Well, goddamn, You're the Vanderbrook coach. This shit gonna work out perfect." Papa Shake got up and shook Coach Kennedy's hand. Coach Kennedy was very happy to meet Papa Shake, he had seen him on TV and was well aware of how big a celebrity he was. Mrs. Cindy Kennedy was as well. Cindy blushed as she reached in to shake Papa Shake's hand, but he wouldn't allow that. "Damn that sista, we family now. Los Angeles Lazers family!" Papa Shake brought in Cindy Kennedy for a big hug. While the coach was greeting the rest of the front office people, Papa Shake let his hands roam south of Cindy's belt as he gripped her big fat white ass. Cindy was in shock as Papa Shake whispered into her ear, "Oh the fellas are gonna love you." Right behind Papa Shake was the horny old, Howard Beckman II. He followed up behind Papa Shake and gave Cindy a big hug. Mr. Beckman also got a grip of her big fat luscious ass cheeks and said, "I hope to see a lot of you around the office, my dear." Soon later the meeting was was over and Papa Shake went off to tend to his media empire, while the rest of the rich and powerful board of directors went to handle their own business. Coach Kennedy and his wife got acquainted with the rest of the staff and saw the facility.
 
The next few months leading up the the NBL draft were like a whirlwind for Coach Kennedy and his wife Cindy. Papa Shake put his kean business mind to work. He was the ultimate marketing strategist. He hooked the Kennedy's up with a stylist and he had Coach Jeff Kennedy looking like the second coming of Pat Riley. His hair was slick, his suits were impeccable, he looked like a Hollywood star. As for Cindy, Papa Shake had he brillant idea to put her to work with the organization as well. While most wives of coaches on the professional level are seldem heard from, Papa Shake had the idea use the beautiful, voluptuous, middle aged blonde white woman make appearances at team events as sort of a spokesperson. Cindy had a great head for the game of basketball, plus she was a naturally sweet and likeable individual so she fit right in with Papa Shake's plans. Cindy was a little nervous about the leggins, tight skirts and tight jeans that Papa Shake's stylist dressed her in, but after a while she started to enjoy the cat calls and compliments that she would receive for her sex appeal. Vanderbrook University was definitely in the rearview mirror for these two.
"Hello, this is Delia Monroe and to many this is one of the greatest days of the sports year! The National Basketball League's draft. This event attracts a lot of stars, media, fans and well, groupies. Who wouldn't want to meet the latest crop of sexy, young, athletic millionaires. Their are a lot of different story lines in effect tonight, but one of the biggest that we've gotten word about is the draft day trade that the Los Angeles Lazers have made to secure the 9th pick in the first round of the draft. Many people are saying that we might get to see not just Coach kennedy and his star freshman point guard Darius Milton renunited, but also the star sophomore power forward, Komani Rucker. Anyway, let's go to the stage, the draft is starting to get under way."
All of the potential first round picks were in attendance with their families. A lot of the second round hopefuls, too. Komani Rucker was sitting at a table with Darius Milton's mother and Darius's uncle, Frank. Frank said to Komani, "I'm proud of my nephew and I'm also proud of you too Komani. I know it's not the same as having your parents here to share the day with you, but me and Darius's mother look at you as family, too. You've been a good friend to my nephew and if the talk is true about y'all getting linked up again as teammates in the pros, we couldn't be happier. Brothas gotta stick together." Komani smiled and the two men shared a handshake and a manly hug. Darius's mother Gloria gave Komani a big hug and said, "That goes double for me, Komani. It's like I have two sons going into the draft. Woohoo. But anyway, it's about to start soon. How long is my son going to take in the bathroom?" Komani smirked and shrugged his shoulders before saying, "I'll text him now Miss Gloria. I'm sure he won't miss his name being called."
 
"Hurry up man, it's about to start. Come on." was the text that came through on Darius's cell phone. Darius checked it while he was trying to finish up his business. Darius wasn't in the bathroom like his mother had thought. He was in a private room in the venue where the draft we being held. "That's right bitch, I figured you'd like one more chance to get a taste of this college athlete dick before I go pro. Don't worry though, y'all hoes gonna get a chance to this dick whenever I'm in town to play y'all boy, Jamal." said Darius while he thrusted his cock in and out of Belinda Bynum's juicy wet pussy. Belinda Bynum was the 37 year old mother of the Nevada State University point guard, Jamal Bynum, who lost to Darius the Vanderbrook Vipers at the National Championship. Belinda was a young single mother that looked far too young to have a 22 year old son. Belinda was a tall, light skinned woman with an enormous ass and big fat titties. She had worked as a stripper and cocktail waitress for years to put her son through private school. Darius first became acquainted with her when he fucked her at an invitational tournament late last year. Belinda took every inch of Darius's big black teenage cock while she was down on all fours on the floor with her tight skirt hicked up around her waist. "I'm about to nut, uuhhhh, uuhhhh." said Darius as he pulled his throbbing cock out of the 37 year old woman's pussy. "I wanna taste it." said the 37 year old slut as she turned around to catch the load. "Oooo mama, me too." said Jamal's 18 year old sister, Bunny who was also in the room. Bunny was built just like her mother, tall, light skinned with a fat ass. Darius stood up and let the cum ooze out of his cock while Jamal's mother and sister swallowed every drop of his thick, warm cum. "Well, bitches. A nigga gotta go claim this money. I'll be seeing y'all again soon. Ha ha ha. Later."
 
Darius walked out of the room with a grin on his face as he was zipping up his pants to make his way to the draft room. At the same time he was leaving the back room he saw a familiar face leaving the room right next to it. "Papa Shake, Wild Out Records! Aww shit, nigga is it really you?" said a super excited Darius. Papa Shake was also zipping up his pants and fastening his belt. Papa Shake said, "Aww shit, my future star! I've been meaning to get up with you playboy and welcome you to the team, but you know the rules. She's gotta be official before we can sit down an converse. You know the business." Darius replied, "Yeah I know." The two men shared an embrace while Belinda and Bunny tried to sneak out of the room. Papa Shake saw the women leaving and he motioned to Belinda that she should wipe of her mouth before saying, "Hey babygirl, you gotta a lil something on your chin. Ha ha, you a wild boy Darius. A nigga bout to get drafted and he had to stop to get his dick sucked by two bitches. Damn, where you find these hoes?" Darius just smiled while the two ladies went back to their table to sit with Jamal. Darius said, "You know how it is playa. They love the kid." Papa Shake gave Darius dap and said, "Shit, I feel you, playboy. I had to get me a lil somethin' somethin' before handling this business today, too. Hey, you wanna meet your future owner?"
 
Papa Shake opened the door and Darius was shocked at what he saw. 65 year old billionaire, Howard Beckman II was butt fuckin' a young black woman with a fat ass. Darius said, "Oh shit, Mr. Beckman. It's an honor, sir. Damn, I didn't know you got down like this." Mr. Beckman didn't lose his stroke as he looked up at Darius and said, "Darius, my boy. Can't wait to officially have you on the team, but hey, look who I'm fuckin'. Mr. Beckman lifted up the woman's head by her hair and revealed that he was anally pounding 22 year old rap/pop star Rachel Ratchet. Rachel's make up was a mess, especially her lipstick. She had cum on her mouth and chin. She looked right in Darius's face with a blank expression before Mr. Beckman pushed her head back to the floor. Darius was in shock, "Oh shit! It's like that. Y'all just be tag teamin' big booty superstar female rappers. Shit, sign me up!" Papa Shake laughed and said, "Yeah, she on my label so she my property. You know the deal, but uhh, that's all H.B. right there. Ole boy been straight slavin' that hoe all mornin'. I've been workin' on another piece of ass."
 
Just then Darius saw another familiar face, "Shake, baby, have you seen my bra?" said Cindy Kennedy as she walked out of a backroom wearing only her panties. Darius interjected by saying, "Damn Miss Cindy, since me and Komani turned that ass out, you done got loose, huh? Yo, you stay misplacing your bra, too." Papa Shake laughed as he tossed a very embarrassed Cindy her bra. "Damn my nigga, you and the kid Komani already hit that. Shit, me and H.B. thought we were breakin' new ground with that one. Ha ha ha. Kind of pegged the kid Komani as a choir boy. Anyway, how many times you hit?" Darius and Papa Shake traded stories about the dirty acts that they made Cindy Kennedy perform for them. Apparently Papa Shake and Mr. Beckman wasted no time turning Cindy out. Powerful men see what they want and they make it happen. While they keep Coach Kennedy occupied with appearances, they keep Cindy close to them. They didn't force her to do anything, but the fact that they were her husband's bosses made her extra friendly. "So y'all niggas fucked this hoe up the ass before y'all had that killer game in the championship. Y'all some wild boys. Shit, if fucking this big booty white hoe up the ass makes y'all niggas play better than shit, we gonna have to keep her close to y'all. Ha ha ha." Mr. Beckman finally finished fucking the 22 year old female rapper up the ass. Rachel was used to the routine. She took Mr. Beckman's second load in her mouth just like she did the first one. Mr. Beckman than gave her a pat on the head and a few thousand dollars cash. "Here you go sweetheart, buy yourself something nice." Rachel put her head down, as the cum dripped from her mouth and some from her booty and said, "Thanks daddy."
 
Majority team owner Howard Beckman II and minority owner Papa Shake walked out of the room with Darius grinning. Mr. Beckman and Papa Shake walked down the hall to the LA Lazers war room where they were talking about second round draft decisions while Darius went to his see still grinning from ear to ear. Darius's mother said, "Boy, you'd be late to your own funeral. Ha ha ha. What are you so happy about?" Darius's Uncle Frank and his friend Komani knew Darius well enough to know that was his "I just got some ass" grin. They both just burst out in laughter. Uncle Frank then said, "Boy, I can only imagine how wild your ass is gonna be once you get a taste of those pro groupies. Ha ha ha." Darius's mother finally caught on and said, "Boy! Don't you be poppin' up with a million baby mamas like some of these ball players. At least give me another 5 years or so before you make me a grandmama. I'm too young and fine for all of that." Darius gave his mother a hug and a big kiss on the cheek and she smiled. Moments later, Papa Shake, Howard Beckman II and Coach Kennedy emerged from backstage as the commissioner said, "With the first pick in the 2013 National Basketbal League Draft, the Los Angeles Lazers take, Darius Milton, freshman point guard, Vanderbrook University." The crowd cheered and although everyone knew that Darius was going first in the draft, his mother, uncle, his friend Komani and even Darius himself got a little choked up. Darius's mother cried her eyes out because she was so happy. Darius went to the podium and took pictures holding his jersey with the commissioner and Mr. Beckman. He then took a ton of pictures with his coach, Papa Shake and Mr. Beckman off stage. Just like the experts had predicted, the Lazers used their second first round pick a half an hour later to pick up Komani Rucker as well. Komani got the same treatment. A ton of pictures with the coach, the owners and with his former college and now pro teammate Darius Rucker.
Darius's mother and uncle left the venue to go back to their hotel rooms to freshen up for a night of celebration. Darius and Komani went to a backroom to meet with a few assistant coaches and team personnel that were giving them information on everything they needed to know. Both of the boys were signed with a veteran sports agent by the name of Sam McIntyre that was making sure that their multiyear, multimillion dollar contracts were in order. A lot of other players were getting drafted, but a lot of other players were left sitting there waiting and hoping for their names to be called. As the second round of the draft started up, Papa Shake went and got his two first round stars and took them off to a hotel room he had booked upstairs. "Well fellas, this shit is almost over. Niggas gonna see who's left in the second round worth scooping up and then we're going to have a big party. Anyway, this was going to be a surprise for y'all, but Darius already got a glimpse of it. Damn, I thought I was giving y'all some shit y'all ain't had before, but I hope you enjoy it anyway." Papa Shake opened the door to the hotel room where they saw Coach Kennedy's wife Cindy topless, on her hands and knees wearing only a pair of tight pink panties. "Hello, boys." Komani's cock got instantly hard again. He hadn't fucked Cindy since her husband took his new job. Komani wasted no time running up to Cindy, unbuckling his pants and putting his cock down her throat. "Aw, yeah Miss Cindy. I missed this mouth, ya heard me. I love your make over, you look sexy as fuck. I been seeing you on TV and everything." Papa Shake and Darius just laughed while Komani throat fucked the shit out of Cindy.
 
Darius said, "Nice! Ay Shake, is that fine ass Rachel Ratchet still around." Papa Shake shook his head and said, "Nah sorry, playboy. She had a show she had to do. Bitch gotta go make my money, ya feel me? You'll get many a chances to hit that sweet caramel ass, trust that, but I got a few other surprises, up my sleeve." Papa Shake took Darius into the bedroom where he saw 2 thick sexy Latinas wearing only panties and bras. "Ha ha ha, these hoes were the top bitches in this video shoot my boy Dr. Kool Love just did. This is Alicia and this is Stephanie. Two of the finest, big booty Dominicanas you've ever seen." The women wasted no time undressing Darius and giving him a two for one blowjob. Papa Shake whispered in Darius's ear "They both got bomb ass head, top notch pussy and they take it up the ass. Welcome to the team, playboy. Enjoy." As Papa Shake made his way out of the bedroom to leave the hotel suite, he noticed that Komani had gotten tired of getting a blow job and he had Cindy Kennedy bent over the desk in the room while he drilled her pussy from the back. Before exiting the room Papa Shake said, "Enjoy that ole pussy, my nigga. Welcome to the Lazers!"
 
Back in the Los Angeles Lazers war room, "It's either LaMichael Terry from Florida or Jamal Bynum from Nevada State. We need another backcourt player and they're both good combo guards. Plus they can get minutes at the point when Darius is tired or start at the 2 if they show that they're good enough in practice." said one of the assistant coaches. Coach Kennedy's life has been crazy since he got his new job. If he would have had a moment to think he would have remembered that there was some bad blood between Jamal and his new start Darius, however that was the farthest thing from his mind. "Ok, since it's my decision I'll go with Bynum. He has a lot more upside and I like the way he handled himself in the championship game. Even though they lost, he was solid. Darius scored a ton of points on him, but Darius scores a ton of points on everyone. Let's make it happen."
 
The draft venue was a lot emptier after the first round and a lot of the analysts and reporters were too busy evaluating the first round picks. With a lot less fanfare, Jamal Bynum was selected in the second round by the Los Angeles Lazers. Bynum's mother and sister were jumping up and down saying, "We about to be paid! We about to be paid! Jamal you did it! We rich! We rich!" The light skinned, African American 22 year old mustered up a smile as he walked to the podium to get his congratulatory jersey from the assistant commissioner of the league and to take pictures with the head coach. Papa Shake was long gone, but Mr. Beckman was still there to congratulate Jamal after he left the stage. "Good for you son. Welcome to the team. I think we're lucky to get you." Jamal respectfully said, "Thank you sir. I'm happy to be on your team." Mr. Beckman noticed a little sadness in his tone. "Then act like it young man. We're investing in you. What's wrong, son?" Jamal said, "Well before the championship game there was talk of me being a first round pick. I had hoped to start in the league my first year. Now I'm gonna be behind that kid Darius." Mr. Beckman put touched Jamal on the shoulder and said, "Every player matters. Whose to say you won't be the face of this franchise one day. I'm the happiest team owner in the world right now because I have three first round caliber players I'm adding to my team. Let's go introduce you to your new teammates."
Mr. Beckman escorted Jamal to the hotel room where Darius and Komani were. Jamal's agent stayed behind with the team staff to work on his contract. It was a lot less than what Komani was getting and far less than Darius's contract, but it was still a decent payday for a young NBL baller. Upon entering the room Jamal and Mr. Beckman saw the two Latina video girls passed out on the floor in the living room. Mr. Beckman said, "Ha ha ha, the party looks like it got started a while ago. Ha ha ha, fellas! Hey fellas! Are you still here?" Jamal's face lit up as he stared at the two video voluptuous video girls laying on the floor. Mr. Beckman and Jamal walked into the bedroom where they heard loud smacking sounds coming from. They walked in on Darius fucking Coach Kennedy's tired looking big booty blonde wife up the ass while Komani fucked her throat. Jamal was in shock. "Ay, ain't that Coach Kennedy's wife?" Mr. Beckman laughed and said, "Yeah! She's a great addition to the team as well. Hey fellas, do you mind if me and Jamal get a taste?" Darius kept pumping Cindy in her fat white ass, while Komani pulled out of her mouth and made way for Mr. Beckman to get his dick sucked. "Ha ha ha, thanks Komani. I'm an old man. I was fucking earlier. A nice soothing blowjob is about all the old ticker and handle at the moment." Darius continued viciously pounding away at Cindy's ass while he looked over at Jamal. "So they picked you up, huh nigga?" Jamal had an angry look on his face and said, "It looks that way, nigga!" Darius pulled his cock out of Cindy's ass and shot his load on her back before saying, "No hard feelings, bruh. We teammates now." Darius backed away from Cindy's gaping ass and motioned for Jamal to come over and take his spot. Jamal unzipped his pants, pulled out his already stiff cock and gladly got behind Cindy and started fucking her up the ass. Darius and Komani walked into the other room to wake up the video girls for another round. Before closing the door Darius said, "Ay playboy! This is the first and last time I'm gonna let you take my spot. Ha ha ha, see you on the court, dawg."
Jamal proceeded to take out his aggression on Cindy's fat white ass long after Mr. Beckman had passed out on the bed. Even after Darius and Komani had finished with the video girls and left to meet up with Darius's mother and uncle for dinner. Jamal was still dominating Coach Kennedy's wife's ass. The poor woman laid there with her head down and her ass up while it was being fucked and manhandled by the young, tall, muscular black man. After Jamal emptied his fourth load of cum in Cindy's fat ass she thought the anal rampage was over. Jamal informed her that he wanted one more nut. Cindy was in no position to deny the young man so she continued to take her pounding. All while her cell phone was ringing. Her husband was calling because she was late for their celebration dinner. Coach Kennedy had gotten them reservations at a swanky hotel to celebrate his first pro draft day. It also happened to be their 20th wedding anniversary.
Reviews
Tags